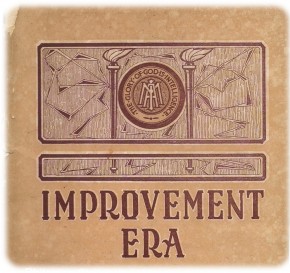 Time for a little rebranding. While VisionsoftheKingdom.com will still remain active for the foreseeable future, this site will now also be accessible by ImprovementEra.com – which I will be turning into its primary domain and title. Right now, I'll be doing the transition, sort of like how Kinkos went to FedEx Kinkos before turning into FedEx Office, and dropping the Kinkos entirely.
When I began the site, it was designed to showcase some images, illustrations and videos I'd created to help visualize aspects of Old Testament-era culture and religion as was beginning to understand them, especially as pertaining to the ancient Temple. I wanted to choose a name which presented the idea of all that together, and Visions of the Kingdom seemed to fit pretty nicely.
Since then, while still having a great interest in the development of the ancient world and its scriptural texts, the majority of my focus in study has switched  to the history of the Modern Restored Church.
As I began to switch in emphasis as to what was being posted here, I realized that the blog name didn't really mesh as well with the new content and focus.
Somewhat inspired by the Bloggernacle trend of using titles of defunct Church related periodicals (see Juvenile Instructor, Millennial Star, Times and Seasons, Keepapitchinin, etc – admittedly some of the bigger fish in the Bloggernacle pond), I thought of the Ensign's most recent antecedent, the Improvement Era.
The Improvement Era served many purposes. Initially the official publication arm of the Young Men's Mutual Improvement Association (YMMIA) , it eventually became the premier adult Church periodical. In a time before Correlation, its topics ranged from General Conference addresses, to fiction, to culture, to scientific discoveries, and even discussion of pseudepigraphal and apocryphal literature.
The Era published several substantial intellectually provocative essays by Hugh Nibley, published photos of the Joseph Smith Papyri and discussed the ramifications, and was the first American Publication of the Pseudepigraphal Apocalypse of Abraham (in 1898!).
In other words, while official, it was all over the place.
I love how the Era was summed up in its entry on the Encyclopedia of Mormonism:
Through its General Authority sponsorship and its focus on theology, history, contemporary affairs, and life in the Church. Its name reflected its sponsor's goal to be for the intellectual, moral, and spiritual mutual improvement of its readers in a new Church era just one year after Utah achieved statehood….its pages were often used to voice concerns important to Church leadership and to respond to queries concerning Church doctrine and LDS lifestyle.
I thought this addressed well what I hoped this site to be:  focused on theology, history, contemporary affairs, and life in the Church. Additionally, to contribute to the conversation of  what consists of intellectual, moral, and spiritual mutual improvement with all of the participants. I recognize and desire to emphasize that we live in a New Era, where materials relating to Ancient and Modern scriptures and history are at an unprecedented level of availability.
I want to be able to consider, explore, and voice concerns important to Church members and its leadership, and attempt in some way or another to respond to queries that I personally have encountered through my own studies and experience concerning Church doctrine and LDS lifestyle.
I'm not a General Authority. I'm not a Professional Scholar. I'm not really an expert on any one thing at all. But I am a well-read practicing and faithful Latter-day Saint Convert of 7 years interested in learning from and pondering and sharing what those who belong to both categories have to say – as well as all those in-between.  I'm still trying to find my voice in the world of Mormon Blogging, but I'm enjoying the ride.
I hope there's something here you'll find of interest, or benefit.