The Birth of a Son of God: Mark's Christmas Story
The Birth of a Son of God: Mark's Christmas Story
At this time of year, we are surrounded by illustrations of the classic Nativity Scene (I have a beautiful one on my mantel), often an amalgamation of the imagery in Matthew and Luke's Birth Narratives.
The imagery is often filled with angels, shepherds, wise men, a manger and a stable. It is a beautiful and powerful scene. There is much to learn from and appreciate from it.
However, I'd like to invite a different perspective to Christmas – placing an emphasis on the Birth of the Son of God as presented in Mark's Gospel – and express how this sacred event has significance to each and every one of us.
Mark's Christmas Story1
"Wait," you may ask. "But Mark doesn't give an account of the Savior's birth!" – Not in the way we're accustomed to thinking about it. But the first chapter of this earliest of Gospel accounts presents an important event in a very important context.
Here it is, for a refresher:
1 The beginning of the gospel of Jesus Christ, the Son of God;

2 As it is written in the prophets, Behold, I send my messenger before thy face, which shall prepare thy way before thee.

3 The voice of one crying in the wilderness, Prepare ye the way of the Lord, make his paths straight.

4 John did baptize in the wilderness, and preach the baptism of repentance for the remission of sins.

5 And there went out unto him all the land of Judaea, and they of Jerusalem, and were all baptized of him in the river of Jordan, confessing their sins.

6 And John was clothed with camel's hair, and with a girdle of a skin about his loins; and he did eat locusts and wild honey;

7 And preached, saying, There cometh one mightier than I after me, the latchet of whose shoes I am not worthy to stoop down and unloose.

8 I indeed have baptized you with water: but he shall baptize you with the Holy Ghost.

9 And it came to pass in those days, that Jesus came from Nazareth of Galilee, and was baptized of John in Jordan.

10 And straightway coming up out of the water, he saw the heavens opened, and the Spirit like a dove descending upon him:

11 And there came a voice from heaven, saying, Thou art my beloved Son, in whom I am well pleased.
The wording in the event of Jesus' baptism, "thou art my beloved Son" is significant. It hearkens back to Psalms 2:6–7, which is understood by many as part of an ancient Israelite coronation ritual, where the King was anointed (made a Moshiach [messiah, or, in greek, a christ]) and announced as a Son of God.
6 Yet have I set my king upon my holy hill of Zion.

7 I will declare the decree: the Lord hath said unto me, Thou art my Son; this day have I begotten thee.
The earliest texts of Luke (such as the Codex Bezae) are more explicit in this connection, and give Psalms 2:7 verbatim as the announcement from Heaven upon the baptism of Jesus : "You are my son. Today I have begotten you."2
Instead of emphasizing the now-classic Nativity Scene, Mark chose this event as "The Beginning of the Gospel of Jesus Christ, the Son of God" (Mark 1:1), and his chosen Birth Narrative of the Son of God, and his explanation for the usage of the term, "Son of God" in association with Jesus of Nazareth.
The Covenant of Christmas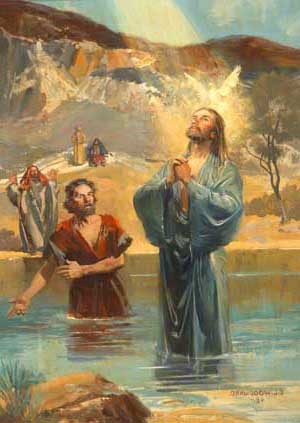 The Book of Mormon associates entering into Covenant with Christ as a way we are begotten Sons and Daughters of God through Christ – and are even called by the name of Christ!
King Benjamin, in his classic discourse, makes explicit reference to this when he states:
And now, because of the covenant which ye have made ye shall be called the children of Christ, his sons, and his daughters; for behold, this day he hath spiritually begotten you; for ye say that your hearts are changed through faith on his name; therefore, ye are born of him and have become his sons and his daughters… And it shall come to pass that whosoever doeth this …shall know the name by which he is called; for he shall be called by the name of Christ.(Mosiah 5:7, 9)
This Covenant, by which one becomes a begotten son of daughter of Christ the LORD, becomes explicitly associated with the sign of Baptism in the words of the prophet/missionary Alma:
Yea, I say unto you come and fear not, and lay aside every sin, which easily doth beset you, which doth bind you down to destruction, yea, come and go forth, and show unto your God that ye are willing to repent of your sins and enter into a covenant with him to keep his commandments, and witness it unto him this day by going into the waters of baptism. (Alma 7:15)
Remembering Christmas
While Baptism is widely and scripturally associated as commemorating and re-enacting the Death and Resurrection of Jesus Christ, I think it can be appropriately viewed as a re-enactment of Christmas – the sacred and humble coming forth of a Begotten Child of God into the world.
Jesus famously connected those symbols of Water and Spirit to a new Birth:
Jesus answered and said unto him, Verily, verily, I say unto thee, Except a man be born again, he cannot see the kingdom of God.
4 Nicodemus saith unto him, How can a man be born when he is old? can he enter the second time into his mother's womb, and be born?

5 Jesus answered, Verily, verily, I say unto thee, Except a man be born of water and of the Spirit, he cannot enter into the kingdom of God.

7 Marvel not that I said unto thee, Ye must be born again. (John 3:4–5,7)
When we ponder the ordinance/ritual of Baptism, I think it is very appropriate to recognize the connection between this, the moment of our legal Adoption as a Son (or Daughter) of God, and the Birth of the Only Begotten Son of God (a term of pre-eminence), Jesus the Anointed, the Christ, where the Father announced, "This is my beloved son, in whom I am well pleased." And/or, "You are my son. Today I have begotten you."
Just as Jesus was ritually announced and 'begotten' as a Son of God, so are we to follow in His footsteps.
So may I suggest that in addition to reading the traditional Birth Narratives (Matthew 1:1 and Luke 2, and 3 Nephi1 for LDS families)with your families around Christmas time , you also consider adding Mark 1 to your repertoire to cap off the sacred covenant nature of the coming forth and presentation of a Beloved Child of God.
see Margaret Barker, The Great High Priest, pp. 30, 360 [↩]